Firstly, I just have to say that my Erasmus+ Bologna experience was amazing, and I would thoroughly recommend that if you are ever given the opportunity to attend such a course to grab it with both hands.
From day one my colleagues and the staff were helpful, inciteful and understanding which only made the experience that much better. I also got the opportunity to explore Bologna and Florence which are both amazing cities with their own unique cultures and history.
Intercultural Learning and Cultural Diversity
As the title above suggests I attended a course on "Intercultural Learning and Cultural Diversity in the Classroom" and learnt a great number of skills and concepts that I hope I can one day implement in the school, the classroom and in my life in general. Some of these are:
The differences between "multicultural, "cross-cultural" and "intercultural"
The role of teachers and education in supporting students' identities
How to break the vicious cycle of stereotypes
The link between culture and education and how we need to consider how culture influences the way we approach teaching as well as the way students interpret this approach
The importance of inclusion, membership, empathy in the classroom and outside it
Impressions of the Erasmus+ project
This course allowed me to grow as both a teacher and a person and has taught me the importance of acceptance, tolerance and understanding despite the differences that sometimes seem to divide us.
At the end of the day, we have more in common as human beings than might appear at first. It is just a matter of finding the similarities that connect us and seeing things from someone else's point of view to gain a better understanding of them. A skill which anyone can learn with a bit of time and patience.
So, I'm looking forward to sharing the new knowledge I acquired on my Bologna adventure in a workshop I will be presenting to the staff and teachers at the school very soon.
I'm certain these new ideas and concepts can only benefit the school as a whole and create a better work and classroom environment for everyone.
Branimir Skračić
Project partners:
The Agency for Mobility and EU Programmes
The project is funded by the European Union. Erasmus+ Enriching lives, opening minds.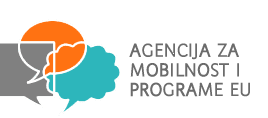 Dowload our new eBook: 10 Tips for a successful KA1 Erasmus+ experience